TIMESJOMBANG, MALANG – Coffee shops are sprouting in Malang. Recently, there is a newly established coffee shop in Malang named Kopilihkau. Located on Jalan Bondowoso 9A, this coffee shop offers a cozy minimalist concept.
This coffee shop provide the best dine in and take away experience for its customers.
"We provide a cozy place for any customers who want to catch up with their friends or family or to enjoy their time," said Tedy, the owner of Kopilihkau.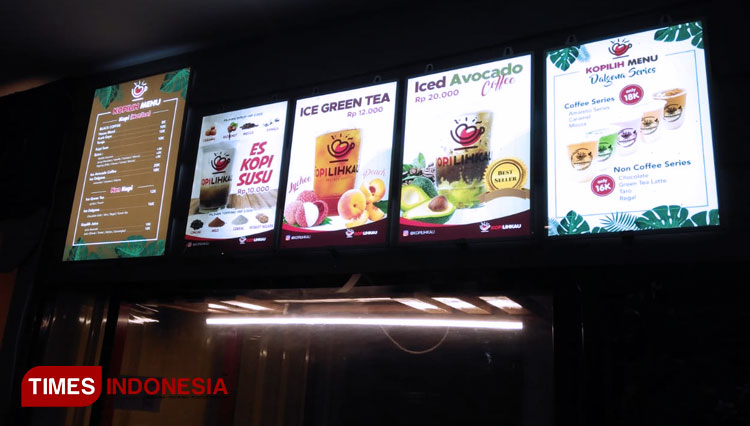 The prices are relatively affordable, ranging from IDR 8,000 to 20,000. This coffee shop also serve a variety of scrumptious beverages that will indulge your palate.
"We only use high quality ingredients to make delicious beverages that bring joy to our customers," he said.
For those who do not like coffee, they can order some tea. Kopilihkau is different from any other coffee shop since we do not only serve coffee. We also serve tea, Wedang Uwuh (traditional herbal drink), and ginger coffee.
"We pride ourselves on serving modern beverages, as well as the traditional beverages," he continued.
Kopilihkau also provides QR Code menu to promote the zero-touch ordering. The staff implements the safety and hygiene standards, so you do not need to worry about the hygiene when you are ordering here.
What makes this coffee shop different is they provide free Netflix. This program will be available on 15 August 2020 at 7 pm to 9 pm WIB (Indonesian Western Time). They also cooperate with another food shop, Glory Terang Bulan & Martabak. Therefore, the customers of these two shops can enjoy the free Netflix.
"Free Netflix is rarely found in Indonesia. This might be the first free Netflix provided in a coffee shop. We have provided headsets on each table so that our customers can enjoy the TV shows without hearing other noises," said Tedy.
Anyone who wants to start a business can open the franchise of Kopilihkau. The franchise ranges from IDR 35,000,000 to IDr 40,000,000. Actually, Kopilihkau and Glory Terang Bulan & Martabak are managed under one management. That's why, these two shops can be available in the same area.
"These two shops are under one management. Therefore, you will get 10 million discount from the total franchise of these two shops," Tedy explained.
Both Kopilihkau and Glory Terang Bulan & Martabak offer free delivery promotion with no minimum purchase.
Kopilihkau looks forward to serving you. Please kindly check the promotions and updates from Kopilihkau on our Instagram account @kopilihkau and please contact us on 081234282727 for franchise. (*)
Baca Berita Peristiwa dan Politik terbaru di Indonesia dan luar negeri lainnya hanya di TIMES Indonesia.